Leverage your operational data to optimise returns
Dashboard's fit-for-purpose functionality allows your team to focus on what matters most. It is built using our extensive industry knowledge and backed by our team of experts. Dashboard's easy-to-use, lean interface delivers critical insights for a variety of audiences and gives them a deeper understanding of what data is most critical. Advanced analytics mean you can proactively and reliably understand problems to avoid failure before it occurs and costs you time and money.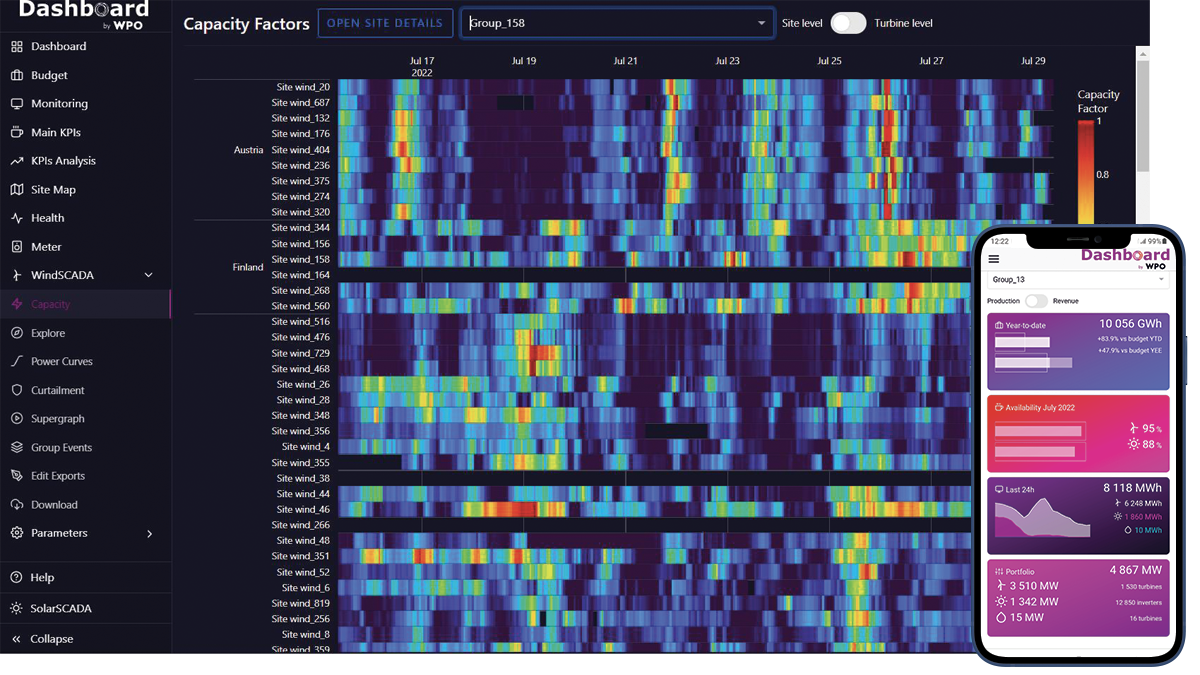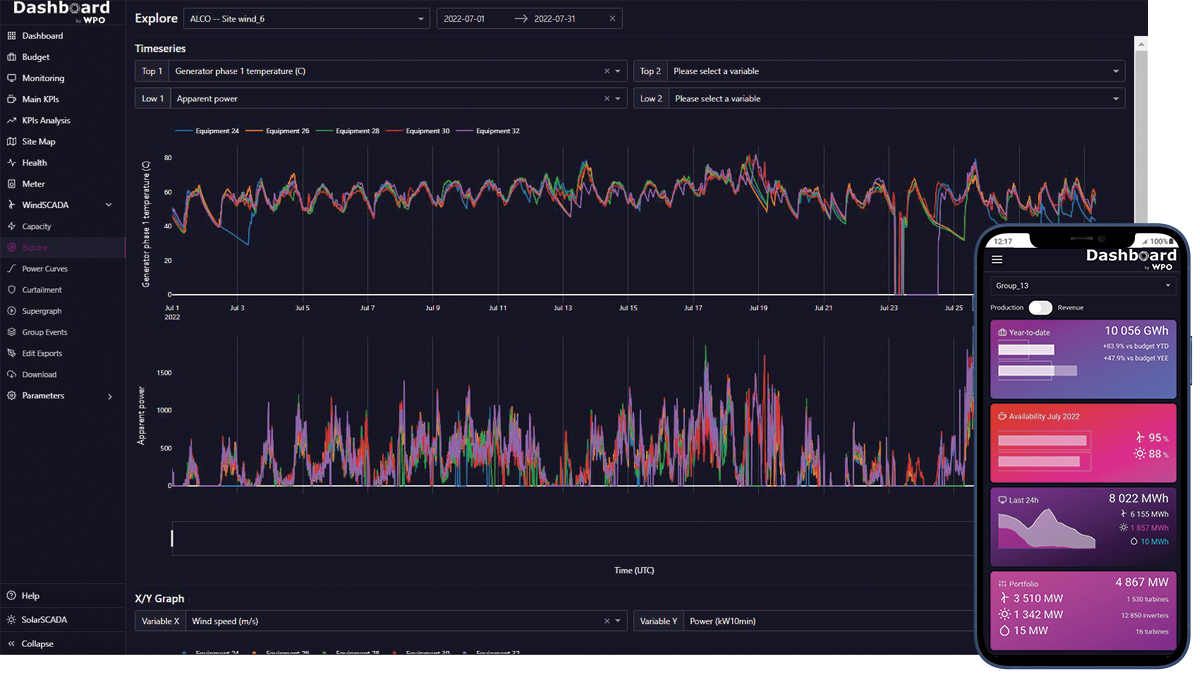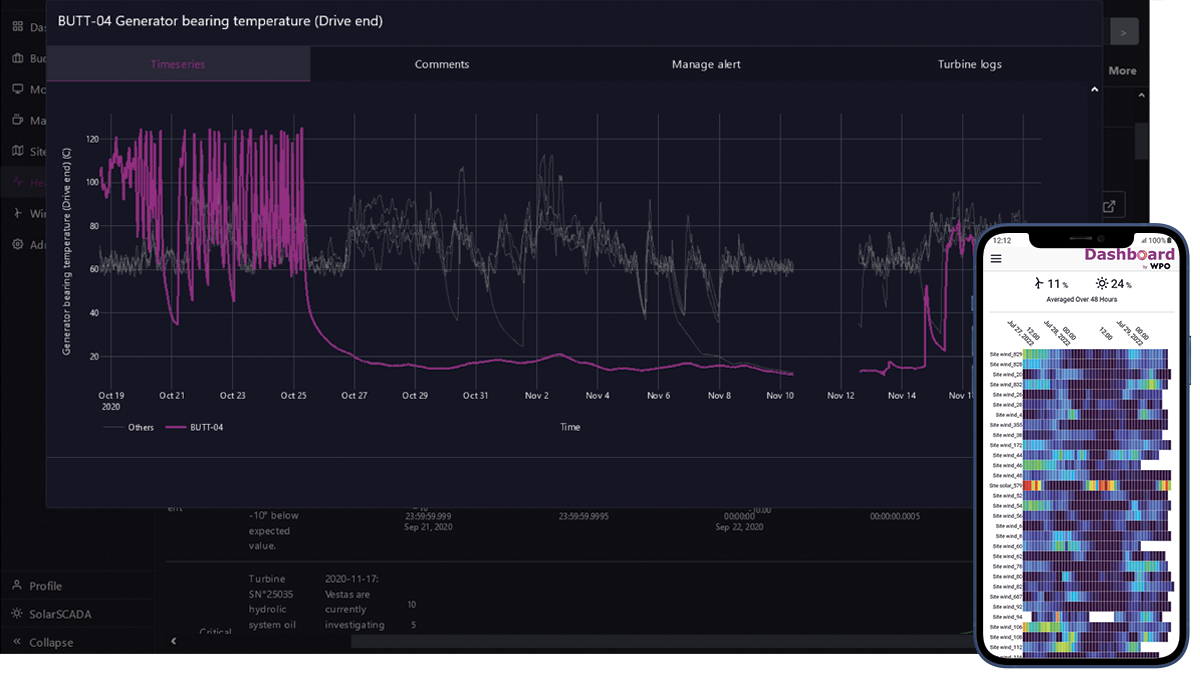 Key benefits
Maximise asset performance
Use Dashboard to increase profitability and boost your competitiveness in the market while avoiding costly downtimes.
Secure your assets and data
Backed by WPO's team of experts, Dashboard ensures your data is secure and delivers easy, hassle-free reporting.
Simplify asset management
Save your team's time and energy with a portfolio-wide vision at a glance. You'll also appreciate the comfort of knowing you're better positioned to meet maintenance-level agreements.
We connect your renewable asset to our system (via remote deployment)
Your asset's data is then transferred to our secure storage
Our AI tool will analyse it to learn everything about the past, the present, and even the future of your assets
Our easy-to-use interface shares our expert knowledge with you 24/7
Don't get lost in a flood of meaningless data anymore
For 15 years, WPO has managed renewable assets. In order to do it in the best way possible, we created Dashboard. Today, we're sharing it with you.
As the only platform developed by renewables experts, Dashboard matches digital energy data with decades of real renewables expertise. In doing so, we're able to help you maximise asset performance. Whether it's for wind, solar, hydro, or battery storage, Dashboard can work for you.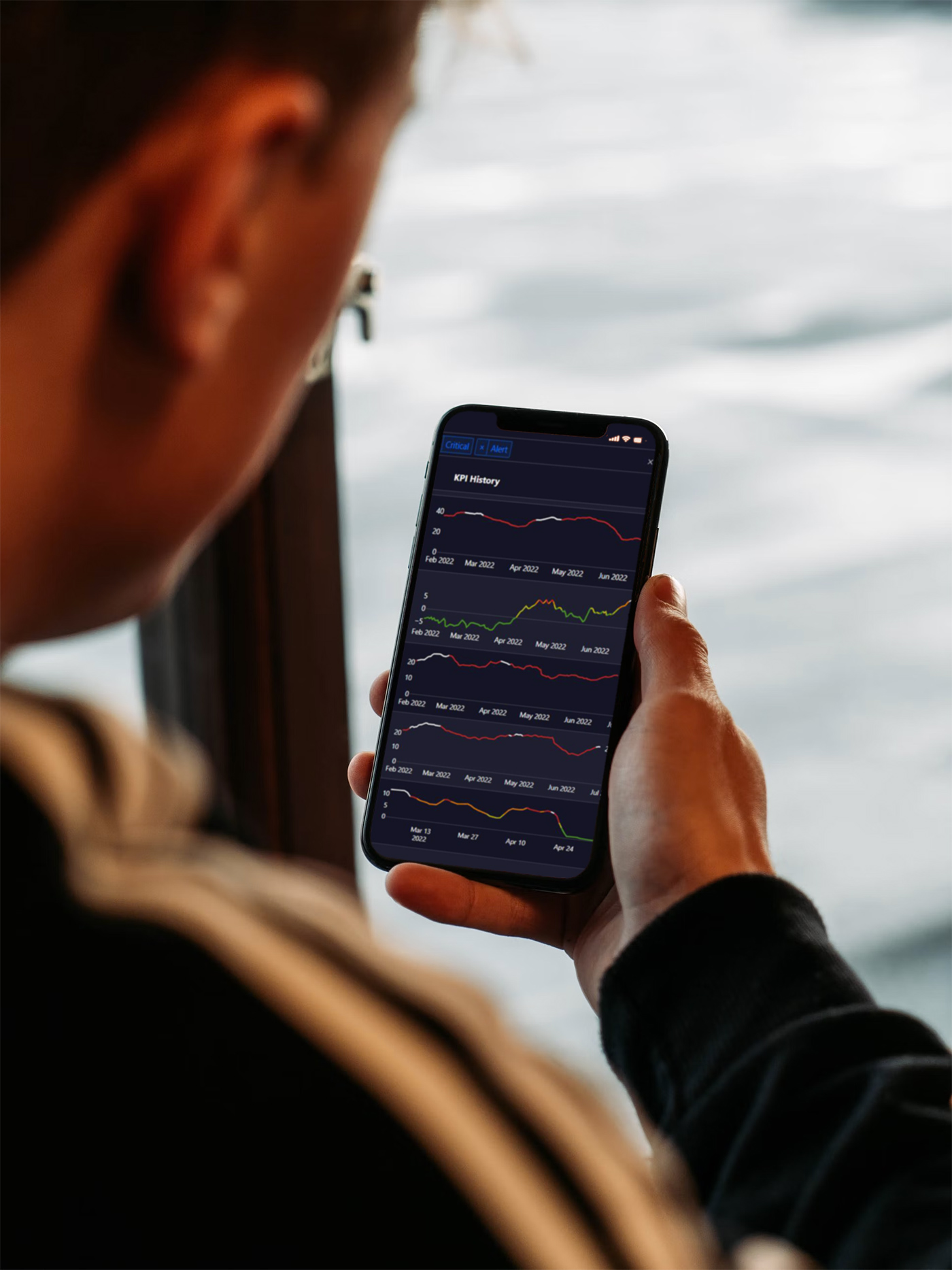 Fleet-level solution
• Your entire portfolio at a glance
• Drill-down capabilities
• Automated reporting
Management made easy
• Turn siloed data into information
• Focus on what matters
• Expert help on your events
AI-powered analytics
• Advanced analytics on asset health and performance
• Proactive auditing and curtailment compliance
• Resolution tracking
Elevate your asset intelligence
At WPO, we understand that good decisions are made by accessing the right information.
Are you an investor, an asset manager, or a site operator? No matter the case, Dashboard has been designed to work for you. Here's how.
Dashboard is a tool for control, trust, and data sovereignty. To most of our clients, buying WPO's Dashboard means much more than purchasing software. To them, it means acquiring a unique asset intelligence tool in which WPO's extensive experience in the renewables industry is condensed. And now they're able to deploy it anytime, at home or elsewhere, meaning our expertise really is at their fingertips.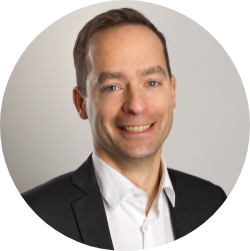 Barthelemy Rouer
Partner, CEO of WPO
Today, asset managers are faced with an overwhelming quantity of data. For many of them, dealing with data is a nightmare and a time-wasting burden. WPO's Dashboard is the only existing platform developed by experts in the renewable energy industry. We've put our expertise into this lean, fit-for-purpose platform that turns massive amounts of data into something simple, clear, and meaningful. Their data. Our know-how. Endless possibilities to optimise asset management.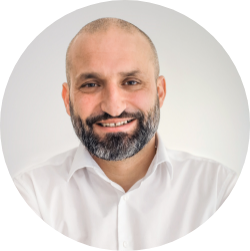 Alexandre Bertrand
Partner, Managing Director